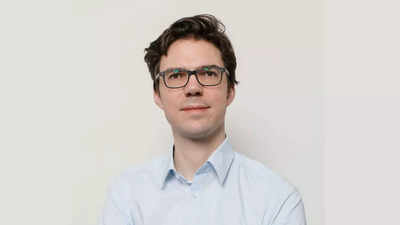 Google Arts and Culture has turned 10. The initiative from Google puts museums from across the world at people's fingertips across platforms — Web, iOS and Android. The aim is to allow users explore art, history, and wonders of the world — from zooming into detail in Van Gogh's paintings, to taking a virtual tour of Delhi's heritage. The team's latest projects include a tool that can find your pet's lookalike in art; and a selection of fun, cultural games, artworks that bring climate data to life.
As India celebrates 75 years of its independence, Google Arts & Culture is joining in the celebrations with a series of initiatives. On the occasion, we spoke to Simon Rein, Senior Program Manager, Google Arts & Culture. London-based Rein joined Google in 2013. Before this, he worked at the Prussian Cultural Heritage Foundation in public relations for their 19 National Museums in Berlin, and for the Humboldt Forum in the Berlin Palace. In the interview, he talks about the Google Arts & Culture's journey in India, plans for 75th Independence Day and more
Q. Tell us more about this new exhibit you are launching on India's 75th Independence Day? What's the purpose and motivation behind this launch?
We built Google Arts & Culture to put the world's cultural treasures at anyone's fingertips and help museums and other organisations share more of our diverse heritage with the world. As Google Arts & Culture, we have been partnering with India partners for 10 years now. So it was obvious for us that we want to join the celebration of India's 75 years of Independence. To mark the occasion, we went beyond archival storytelling and tried something special: bringing together the spheres of archives and artists. We worked with ten Indian artists to tell some of the most remarkable achievements of the history of modern India in more than 120 illustrations. We wanted to enable people all over India, and across the world, to learn more about India's journey through some of its defining moments. But we also wanted it to be interactive and fun. That's why we worked with an Indian quizzer to create the first Indian crossword puzzle on Google Arts & Culture.
Q. How has Google Arts and Culture journey in India been over the last decade?
Over the last ten years, Google Arts & Culture has showcased India's rich culture in many ways. This journey started in 2012 when the National Museum and National Gallery of Modern Art joined our platform, and has since continued. We are proud to have partnered with Indian institutions to bring India's cultural heritage to people all around the world. Today, people from across the world can explore 2,100 exhibitions provided by more than 100 partners in India.
Q. What kind of challenges have you encountered while dealing with museums, curators, and officials, especially in India?
Indeed, there are always some challenges. Every piece of art and project is different and we need to treat it with respect and find the best way to show it. Much of Indian art has an invaluable cultural heritage dating back to thousands of years. This means that many of the artefacts are fragile and sensitive to light and humidity, requiring exceptionally careful handling. This is also why we have developed technologies that help meet the challenge of preserving these works. Let's take as an example Art Camera. So much of the beauty and power of art lives in the details. We know that people love experiencing art in close detail. Millions of people spend time exploring our ultra-high resolution "gigapixel" images, inch by inch—spotting something new every time. With the Art Camera, museums can digitise these works with the global public while ensuring they're preserved for future generations.
Q. How many museums/institutes are using the Google Arts and Culture platform in India?
Today, people from across the world can explore 2,100 exhibitions provided by over 100 partners in India.
Q. Who's your biggest audience in India?
We are glad that many people in India enjoy Google Arts & Culture, as this makes museum visits and cultural archives more accessible across. Some people just can't go to these places, some want to take a closer look at paintings they saw, others want to learn more at home about different aspects of their heritage. It touches on different topics, which also allows different groups to use it in different ways. For example, we think that this new collection 'India Ki Udaan' – published in English and Hindi – can be easily used in classrooms and by families to teach history and culture about India.
Q. Do you also have any partnerships with the State or Central governments?
Yes, we do. Apart from cultural institutions, artists and curators, we partner with governments as well. In India, we collaborated with the Ministry of Culture for Crafted in India; with the Ministry of Tourism on the Incredible India campaign; and with the Ministry of Railways on Indian Railways.
Q. With respect to your engagement with art institutions in India, can you talk about any India-specific challenges that the team has faced?
I want to turn your question towards where I see the big opportunity lies for a platform that connects cultural collections from around the globe. A few years ago, I saw the landmark "India & the World" exhibition at Chhatrapati Shivaji Maharaj Vastu Sangrahalaya in Mumbai. It was amazing to see millennia of India's culture alongside the global context of its time. That's my hope for a cultural platform as well – that it allows you to understand a country's cultural heritage in a wider context. It's also worth mentioning that most museums can only display a fraction of their collection – digital collections make it possible to show more of their holdings across museums and borders. Every time I visit India, I'm inspired by seeing how museums like the National Museum of the Gallery of Modern Art and so many others are experimenting in the digital space.
Q. Also, are there any Indian-specific best practices/learnings that you have taken to other countries? With Street View in India finally, how do you see the platform change/evolve?
Culture is more than what you find in museums. You can look around, and see culture everywhere. This is particularly true of India. That's why you find a theme on Indian Railways on Google Arts & Culture – you can tell the story of Indian Railways from a cultural angle. And that's why, when we captured the rich heritage of crafts in India, we didn't just show the artefacts but also went into villages all across India to capture the traditional processes of how they are made, and what we can learn from that today.
As far as Street View goes – actually this technology is not new to us, Google Arts & Culture was born in 2011 from a 20 percent project. A small group of art-lovers at Google wondered how we could turn our passion into a project. Empowered by the recent technological innovations in smartphones, cloud storage, ultra-high-resolution digital photography, and the synthesis between them, this small group felt compelled to approach museums eager to make their collections more accessible through digitisation, including Street View of cultural spaces. You've seen Street View cars and Street View Trekkers, but what about the Street View Trolley? This is the one to collect Street View images indoors, this high-tech pushcart was initially developed in 2009 to give viewers the experience of a museum walkthrough. In India, we partner with the Archaeological Survey of India to capture its monuments like the Taj Mahal, or with Heritage Transport Museum to capture the Calcutta tram in 360 degree imagery.
Now how do we see the platform develop? Many of our most recent innovations are around how to make your connection engaging and fun. We developed camera features for the Google Arts & Culture app like Pocket Gallery, which uses Augmented Reality to create virtual museum spaces, Art Filters to play with, or Pet Portrait, a way to find your pet's own art double among tens of thousands of artworks. We also create cultural games – whether it's crosswords or artistic jigsaw puzzles – that help people learn through play.
Q. Any special 10th anniversary plans you have for Google Art & Culture in India?
We hope that the merging of technologies and India's rich cultural heritage will provide many more opportunities to share compelling stories, exhibits and experiences that can be enjoyed by anyone, wherever they might be. As we go forward, we'll continue to work with partners and artists to expand the 'India Ki Udaan' collection – it's an ongoing initiative for us.
FOLLOW US ON SOCIAL MEDIA
FacebookTwitterInstagramKOO APPYOUTUBE