In a quite mysterious affair, a large number of customers in the US may have got a blank order email receipt from Burger King's main promotional marketing email address, as per a report by The Verge. Customers who have got such emails number in "thousands or millions", claims the report.
According to the report, the blank order emails started appearing at around 12.15 AM ET and are most likely to have spread a lot of confusion among people. Was this the work of a hacker and the Burger King website and other portals have been compromised? Was this just a big, random mistake or some sort of promotional activity or a scheme which the company will soon reveal to the world? There is no confirmation regarding any of these speculated reasons behind the blank orders.
As per the report, some users even got two of such emails. The list of people getting the blank order emails consists of even those who have not created a Burger King account only. Many took to Twitter after they got the confusing emails as they wanted to find out (anyone would) the reason for the emails.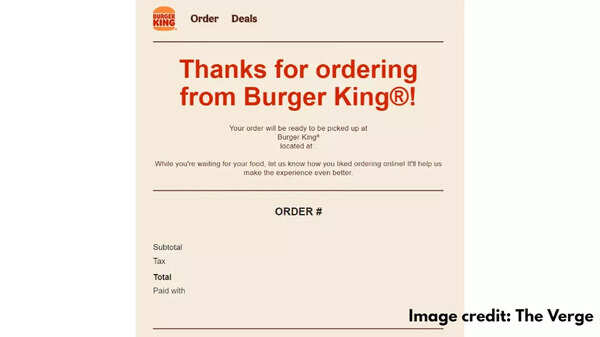 "There's no clear indication that Burger King has been breached, and we've reached out to the company to explain these random midnight burger emails. A lot of people who have received the emails don't even remember creating a Burger King account, so it could simply be a system change that went wrong and blasted out blank orders to Burger King's entire marketing database.", says the report.
We will have more to say on the story once Burger King clarifies why such a thing even happened and if customers need to be careful while ordering online in case the website has been compromised.